Help bring high-speed internet to all Ohioans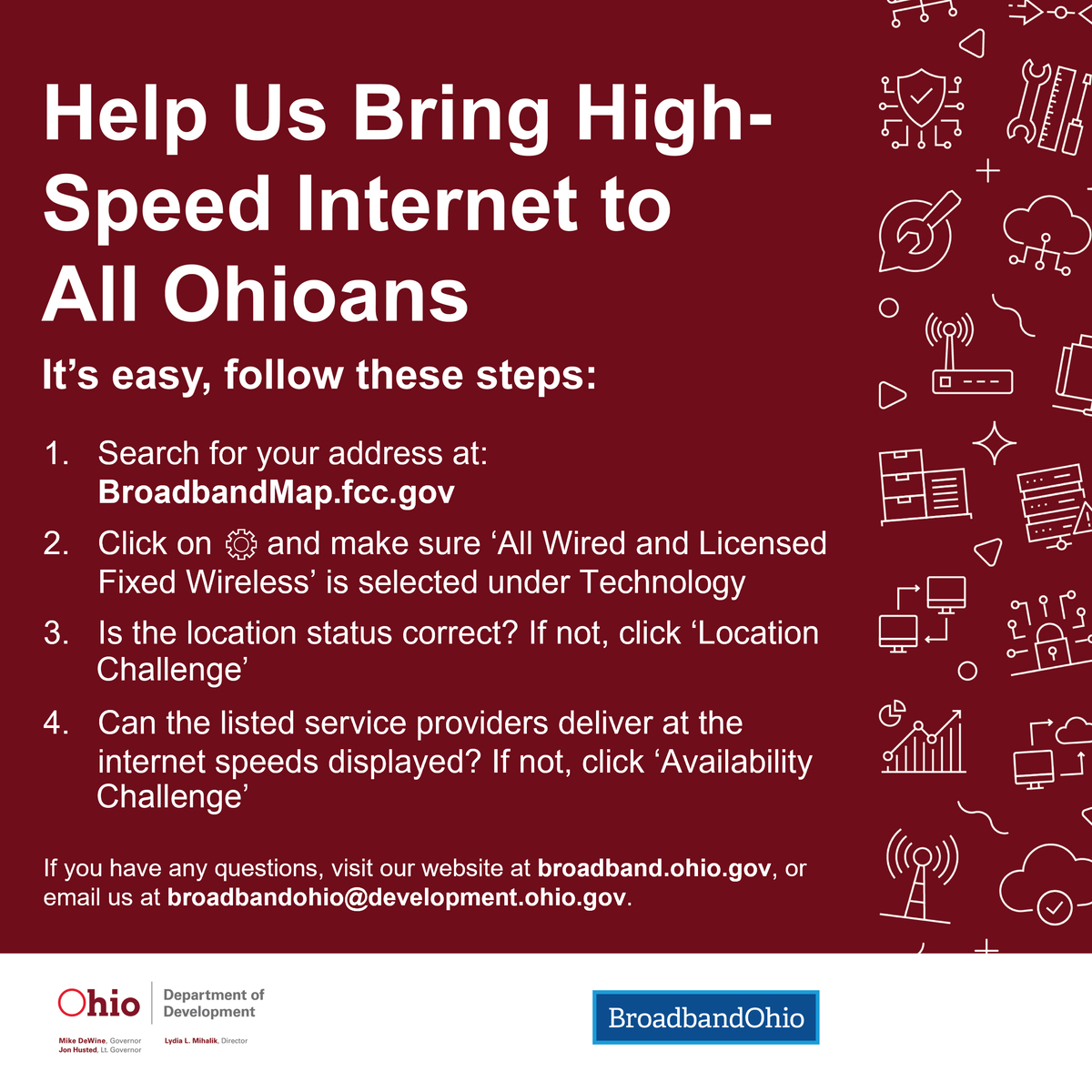 Good morning!
The State of Ohio is working to make sure every Ohioan has access to high-speed internet and needs your help!
We want to improve newly released federal maps showing internet availability and speed in Ohio. From now through Jan. 13, 2023, you can help provide crucial feedback to the federal government that will ensure Ohio receives as much support as possible to expand high-speed internet.
You can help spread the word to all in your community and throughout the state in multiple ways:
Check the reported availability of internet at your home address by going to broadbandmap.fcc.gov. If the provider information should be updated, submit a challenge to dispute the information presented. If you need a step-by-step guide, you can find an informational video at this link. Please complete this assessment by Jan. 13, 2023.
Share this message with your friends and family! If they do not have high-speed internet available at their homes, help them complete Step 1.
Share the attached poster on your social media accounts.
Share this opportunity the next time you attend a community event (for example, your place of worship, community meetings, town halls).
Note: If you, or anyone you know, needs help reviewing the Ohio information in the federal map or submitting a challenge against the reporting, you can follow this step-by-step guide here. You may also reach out to your local library branch.
Note: Within 60 days of submitting a challenge, an Internet Provider may reach out to you by phone or email to gather additional information about your internet situation.

For answers to any questions, contact us at broadbandohio@development.ohio.gov.
Here is additional information for your review on the BEAD program:
Program Name
Broadband Equity, Access, and Deployment Program (BEAD)
Authorizing Legislation
Infrastructure Investment and Jobs Act (IIJA)
FY2022 Appropriations Amount
Total Amount:$42.45 billion
Program Overview The Broadband Equity, Access, and Deployment (BEAD) Program, established by the Infrastructure Investment and Jobs Act (IIJA), provides federal funding to states and territories for grants  to utilize for high speed Internet deployment, mapping, and adoption projects. Each state, D.C., and P.R. will receive an initial allocation of $100 million—and $100 million will be divided equally among the United States Virgin Islands, Guam, American Samoa, and the Commonwealth of the Northern Mariana Islands. States, territories, D.C., and P.R., may leverage initial planning funds to submit a 5-year action plan, which shall be informed by collaboration with local and regional entities. The remaining funding will be distributed based on a formula that considers the number of unserved and high-cost locations in the state, based on the maps to be published by the FCC in 2022. The program aims to close the access gap for unserved areas (those below 25/3 Mbps), underserved areas (those below 100/20 Mbps), and community anchor institutions (1/1 Gbps).
Program Website
https://www.internetforall.gov/program/broadband-equity-access-and-deployment-bead-program
Matching Requirement
Yes. In general, a 25% match is required.
Speed/Technical Requirement for Broadband Infrastructure
Funded Networks must provide at least 100/20 Mbps service.
Eligible Recipients